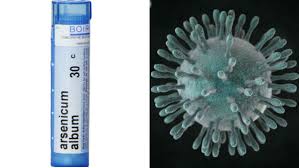 Corona Virus and Homeopathic thoughts
The world is facing biggest humanity crisis due to COVID-19 pandemic disease after 2nd World War now. An Outbreak from China has spread worldwide now. In India COVID tally crosses 2.5 lakh says World Health Organization.
As per WHO, there is no specific medicine or vaccine for COVID-19. But AYUSH Ministry has recommended that Homeopathic Medicine Available with our Homeopathy Clinic Velachery Homeopathy Clinic Adayar acting as a prophylactic against CORONA Virus.
COVID-19 affects different people in different ways. Most infected people will develop mild to moderate illness symptoms like Fever, Dry cough, Shortness of Breathing, Sore throat, Aches and pains, tiredness, Diarrhea, Conjunctivitis, etc.,
In case of above symptoms, seek immediate medical attention. Always call before visiting your doctor or health care facility Homeopathy Clinic Velachery Homeopathy Clinic Adayar.
As precaution, it has been recommended that homeopathic medicine "Arsenicum Album 30" could be taken on empty stomach continuously for three days as a prophylactic medicine against infection. The dose should be repeated after one month by following same schedule until COVID still prevails in community.
The advisory further suggest general hygienic measures such as washing hands with Soap for at least 20 seconds or use Sanitizer cover your mouth and maintain social distance when you are in public.
It is also recommended that Homeopathic prophylactic measures widely available in online medicines Chennai, if taken will strengthen the immune system. The history says homeopathic medicines have already played their role in 1st World war and Spanish pandemic flu efficiently.
Beware of this deadly flu; protect yourselves, Make use of Online Homeopathic medicine Chennai as measures to prevent you and your family from this Pandemic virus, Stay Home, Stay Safe.