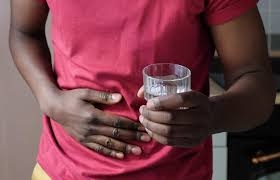 ULCER
peptic ulcer occur in part of the GIT when exposed to gastric acid and pepsin in stomach and duodenum occur due to imbalance between increased (acid, pepsin, H.pylori) and decreased mucous secretion , bicarbonate secretion, prostaglandin)
The causative action of H.pylori infection affects majority of duodenal ulcer and many gastric ulcer
REGULATION OF GASTRIC ACID:
Gastric acid secretion are occurs in gastric parietal cells. An enzyme H+/K+ ATPase secrete H+ions in canaliculi of parietal cells this process can be activated by histamine, acetyl choline and gastrin.Among this histamine has dominant role by acting through H2 receptor. This histamine is produced by enterochromoffin cells called histaminocytes located in oxyntic cells.
Gastrin is secreted from antrum when rise in antrum pH,food etc. The muscuranic receptor mediating vagal response to M1 subtype. It is located in ganglion cells. In contrast, prostaglandin are cytoprotective increases the secretion of mucous and bicarbonates from mucous epithelial cells
ANTIULCER AGENTS
These are the agents used for treatment of ulcer
Goal of antiulcer
Relief of pain
prevent bleeding from affected sites
fast ulcer healing
CLASSIFICATION OF DRUGS
I.GASTRIC ACID INHIBITORS
Antihistamines
cimetidine, ranitidine, famotidine, roxatidine, lafutidine
proton pump inhibitors:
omeprazole, pantoprazole, lanoprazole, rabeprazole
prostaglandin analogue
misoprostal
anticholinergiics
pirenzapine, telenzapine
II.GASTRIC ACID NEUTRALIZERS
antacids
systemic antacid
sodium bicarbonate, sodium carbonate
non systemic antacid
magnesium hydroxide, aluminium hydroxide, calcium carbonate
III.ULCER PROTECTIVES
sucralfate, colloidal bismuth subcitrate
IV. ANTI H.PYLORI AGENTS:
amoxicillin, clarithromycin, tetracyclin
ANTIHISTAMINES:
Antihistamines competitively antagonizes the histamine at H2 receptors. This drug completely blocks the histamine induced gastric acid secretion. All the phases (basal, psychic, neurogenic, gastric) of secretion are suppressed. The ulcer healing dose produce at inhibition of 24hrs of acid output.gastric ulcer due to stress and NSAID is prevented.
sideeffects
headache
dizziness
dry mouth
hallucinations ,confusion , bradycardia, cardiac arrhythmia occurs at high doses.
PROTON PUMP INHIBITORS
This class of is potent acid suppressant. Among various drugs omeprazole is potent inhibitor of gastric acid secretion
use:
peptic ulcer, bleeding peptic ulcer, stress ulcer, zollinger syndrome
ANTICHOLINERGICS
Atropine drugs reduce the volume of gastric acid juice without raising its pH unless there is food in stomach to dilute the secreted acid. Stimulated gastric secretion is less completely inhibited
PROSTAGLANDIN ANALOGUE
PGE2 and PGI2 are produced in gastric mucosa and appear to serve a protective role by inhibiting acid secretion and promoting mucus as well as hco3 – secretion . in addition PGs inhibit gastrin release, increase mucosal blood flow and probably have an ill-defined cytoprotective action.
ANTACIDS
These are the basic substances which neutralize gastric acid and raise pH of gastric contents. Peptic activity is indirectly reduced if the pH raises above 4, because pepsin is secreted as a complex with an inhibiting terminal moiety that dissociates below pH 5.optimum peptic activity is exerted between pH 2-5
systemic ant acid
drugs are directly release in to the systemic circulation
Non systemic antacid
The drugs will undergo first pass metabolism in the liver, before reaching the systemic circulation.
ULCER PROTECTIVES
These drugs form a basic bicarbonate layer in the stomach to neutralize the acidic content of the stomach
ANTI H.PYLORI DRUGS
H. Pylori is a gram negative bacillus uniquely adapted to survival in the hostile environment of stomach. It attaches to the surface epithelium beneath the mucus, posses high urease activity produces ammonia which maintains a neutral environment around the bacteria and promotes back diffusion of H+ ions. H.pylori infection starts lasting 7-10 days usually asympatomatic. Eradication of H. Pylori concurrently with PPI therapy has been associated with fast healing and largely prevents relapse.