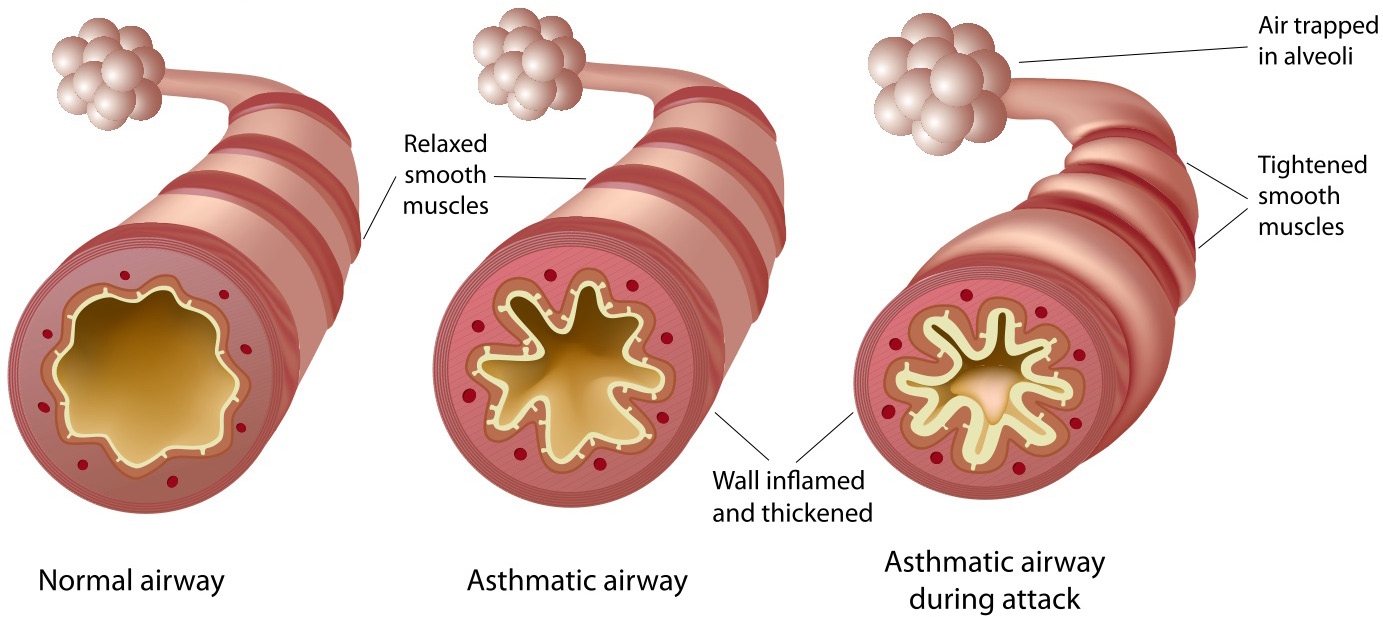 ASTHUMA
A condition in which a person's airways become inflamed, narrow and swell and produce extra mucus, which makes it difficult to breathe.
SYMPTOMS OF ASTHUMA:
coughing, especially at night, when laughing, or during exercise
wheezing, a squealing or whistling sound made when breathing
tightness in the chest
shortness of breath
fatigue
RISK FACTORS OF AFFECTING ASTHUMA:
Having a blood relative (such as a parent or sibling) with asthma
Being overweight
Being a smoker
Exposure to secondhand smoke
Exposure to exhaust fumes or other types of pollution
Exposure to occupational triggers, such as chemicals used in farming, hairdressing and manufacturing
People with a history of viral infections during childhood are more likely to develop the condition.
CHILDHOOD ASTHUMA:
Childhood asthma (pediatric asthma) is the most common serious chronic disease in infants and children; yet is often difficult to diagnose.
SYMPTOMS:
Wheezing (whistling sound) when breathing
Coughing
Rapid breathing
Labored breathing
Complaints of chest hurting
Reduced energy
Feeling weak or tired
ADULT ONSET ASTHUMA:
When asthma symptoms appear and are diagnosed in adults older than age 20, it is typically known as adult-onset asthma.
SYMPTOMS :
wheezing
coughing
congestion
chest pain
increased mucus secretion in the airways
pressure in the chest
shortness of breath after physical activity
difficulty sleeping
delayed recovery from a respiratory infection, such as a flu or cold
OCCUPATIONAL ASTHUMA:
This is a type of asthma that occurs as a direct result of a job or profession.
SYMPTOMS:
Symptoms will become apparent after attending a particular workplace. Industries with regular associations to occupational asthma include baking, laboratory work, or manufacturing.Other symptoms might include a runny nose and red eyes.
KEYWORDS
Homeopathy clinic in velacherry